About Us
Setting the BROKEN HEARTED free!
About Us
Hardcore Christianity is a non-denominational, non-profit 501(c)(3) corporation specializing in counseling, healing, teaching, ministering in the Spirit and deliverance. It is based on Matthew, Mark, Luke & John and patterns its practice after the Book of Acts. It's board members include one licensed Assembly of God pastor and one former Arizona prison chaplain. The ministry also operates the Arizona Deliverance Center & the Healing House in central Phoenix. The Biblical theme of the ministry is Acts 10:38: "God anointed Jesus of Nazareth with the Holy Ghost & power. He went about doing good and healing all that were oppressed of the devil." One of the main services of the ministry is to provide free counseling services to the poor.
Our Mission
Acts 26:18/Mark 7:27: "To open the eyes of Christians to turn them from the deception of seducing spirits to the real truth of Christianity. To turn them from the lies of the devil to the Truth of God, that they might understand that evil spirits have over-run the churches in North America & that Christians can be infected (not possessed) with spirits and need deliverance & that they can receive forgiveness of sins, physical healing & deliverance from demonic disease & mental illness & that they can receive an inheritance among those that are sanctified by Faith in Christ & understand that the Children's Bread of deliverance is for all saints."
BRO. MIKE'S HEALING/DELIVERANCE TRAINING COURSE.  18 SESSIONS:        CLICK HERE
Michael W Smith
Mr. Smith has a Master's Degree in counseling and a Bachelor's Degree in rehabilitation and worked as a certified counselor, certified rehabilitationist & certified labor market consult/expert witness for 23 years and in the field of rehabilitation counseling for 25 years prior to entering the ministry on Christmas Day 2005.
His prior certification credentials included work as a Certified Rehabilitation Counselor, Certified Professional Counselor (Arizona), Certified General Counselor (Nebraska), Certified Insurance Rehabilitation Specialist, Certified Earnings Analyst, Certified Vocational Rehabilitation Counselor, Certified Job Placement Specialist and Certified Forensic Vocational Expert. He was an expert witness in Superior, Federal & Industrial courts in Arizona, Nevada, Texas and California. He provided expert witness testimony in legal court cases over 200 times in his 25 year professional career.
Mr. Smith is a graduate of Anaheim High School and Emporia State University in Kansas and he has two daughters and two granddaughters living near Tucson, Arizona. He studied Greek at Western Bible College in Gilbert, AZ. Mr. Smith has been on the radio for over 19 years and his current radio programs and testimonials, which contain dramatic healing & deliverance testimonies, can be accessed on this web site. His unusual and very popular radio programs currently air on KFNX/1600AM @ 8:00 AM Sundays & KXXT/1010AM, M-F @ 7:30 AM and other times. Access the shows 24/7 on https://hardcorechristianity.com/media/streaming-radio-shows/
Mr. Smith's experience includes work as a jail preacher at the Maricopa Country Sheriff's Office, Bible teacher at Along Side Ministries, prison preacher at the Arizona Department of Corrections, Bible teacher at the Central Phoenix Day Program, Bible teacher at the Phoenix Dream Center, Chapel teacher at the Casa Grande Home of Hope, prison preacher at Correction Corporation of America, intern probation officer at the Lyon County, Kansas Juvenile Probation Department, drug/alcohol counselor at Teen Challenge Christian Life Ranch, Bible teacher at Teen Challenge in Tucson, AZ, Bible teacher at Streets of Joy Rehabilitation Center, Bible teacher at House of Refuge Rehabilitation Center, altar service director at AX 29 Ministries, guest lecturer at Aglow International & private Christian counselor & evangelist. His ministry specializes in inner healing, counseling, physical healing, teaching & deliverance. The ministry & teaching schedule can be accessed on this web site.
Mr. Smith was twice Volunteer of the Year at Teen Challenge Rehabilitation Center in New River and was awarded Outstanding Volunteer certificates at the Arizona Department of Corrections and the Maricopa County Sheriff's Office. Mr. Smith has been a guest in Phoenix on Trinity Broadcasting Network (TBN) and Joy in Our Town television shows discussing mental health issues and how Christians can be treated and cured from addictions and mental & emotional illness. He formerly had a television show on AZTV Ch. 7 in Phoenix, AZ and is currently teaching spiritual warfare classes at the Phoenix Dream Center.
Karen L. Smith
Mrs. Smith has a Bachelor's and Master's Degree in Education and has worked as a licensed middle school teacher in Downey, CA. and Scottsdale, AZ. for 26 years. She was the 2011 Teacher of the Year in the Scottsdale Unified School District and was profiled on Channel 3 News in Phoenix.  She was the educator of the year in 2014 and retired in May 2018.  She is a graduate of Long Beach State University and Arizona State University.  She is a licensed realtor in Arizona and her West USA web site can be accessed on the Home Page of this web site.  She is involved with H.C.C. in the areas of administration & supervision.
Traci Ann Smith
Ms. Smith is Bro. Mike's youngest daughter and has been instrumental in the creation of Bro. Mike's daily radio show (20 years+), the House of Healing and the Arizona Deliverance Center.  She brought Bro. Mike to the Lord in 1996 and continues to be a faithful intercessor for the ministry.  Had the Lord not used Traci, there would never have been a Hardcore Christianity.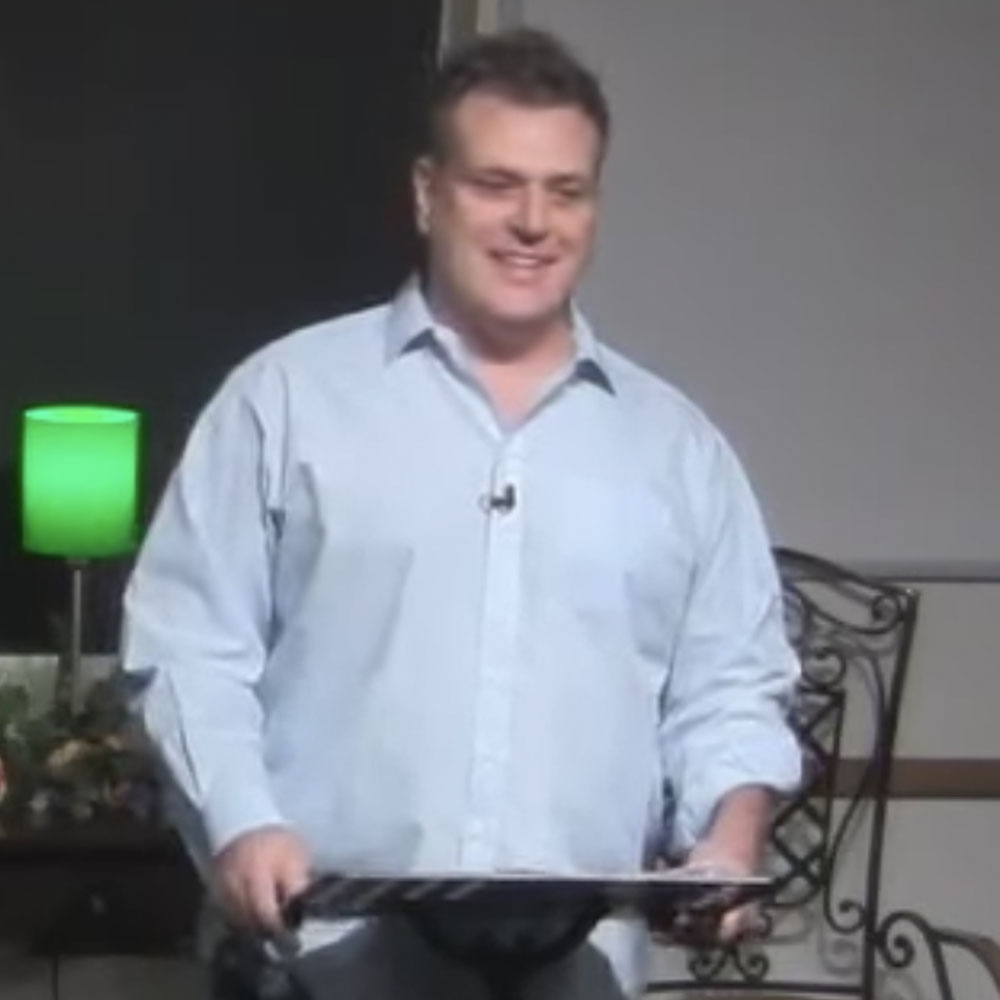 Rick Katt
Mr. Katt brings extensive healing and deliverance experience to the Arizona Deliverance Center.  He had (pre-Covid) a significant evangelistic and healing ministry at the Maricopa County Jail seeing detainees healed and delivered at almost every service.  As a former football defensive end for Arizona State University, Mr. Katt is accustomed to working in the trenches and is a powerful altar worker, comfortable fighting for the lives of the broken and needy.  His Thursday night deliverance/healing service is probably the most anointed service in Arizona.  He works as a real estate investor and his wife, Wanda Katt, is a middle school teacher in Chandler, AZ.  They have 3 children.  He ministers at H.C.C. in the area of deliverance, counseling, teaching, healing and preaching.
Julie Andrews
Ms. Andrews brings considerable experience in the field of education & counseling to the ministry at ADC. She has a bachelor's degree (teaching and biology) from Grand Canyon University and a master's degree in Educational Counseling from the University of Phoenix. She has previously worked as a science teacher and counselor specializing in drop-out prevention, student intervention, program development and peer mentoring for the Phoenix Union High School District and counselor and instructor at Phoenix College in Phoenix, AZ. She also worked as a junior high school teacher and basketball coach in the Phoenix Elementary and Chandler Unified School District. She holds an ESL certificate in Spanish. Her ministry experience includes mentoring with the Arizona Baptists Children Services (ABCS), MatchPoint, & Mentor Kids USA.  She was recognized as Mentor of the Year in 1995 by ABCS & in 2007 by the Christian Association of Youth Mentoring. Other ministry includes Fire & Water Ministries, Adopt-A- Block pastor (Phoenix 1st Assembly of God) & monthly women's speaker for Church on the Street. Julie ministers at the ADC in the areas of counseling, deliverance, praying for the sick and seminar speaker.
Connie Morado (Lugo)
Connie Lugo-Morado has been ministering at HCC for over 10 years during temporary periods from her evangelist calling.  She has successfully written & produced 6 CDs, worked as a director of her own music group & her recording projects have won international awards.  Many of her Christian songs are on the air in the U.S & Latin America.  She has a B.S. degree in nutrition & dietetics, a M.S. degree in Music Education & a D.D. degree.  She has a certificate in addictions and is a traveling evangelist and conference speaker.  She ministers at HCC in the area of counseling, evangelism, deliverance & praying for the sick.
Paula Graff
Ms. Graff works in the technology industry as a Software Engineer with over 35 years of experience.  She lives in Minnesota in the summer and is a Arizona snowbird in the winter.  She traveled and assisted in conferences with Henry Wright Ministries, revealing the spiritual roots of diseases for 5 years.  She was event planner and board member of the Blessing House in Victoria, MN.  She has been a part of the Hardcore team since 2012.  She works in the area of healing, deliverance and coordinates our telephone prayer ministry team.  She is married to a retired Systems Engineer who assists at the ADC in the audio/video department. Together they have 6 children and 8 grandchildren.
Stephanie Bradfield
Stephanie brings a genuine heart and a strong anointing to HCC.  She previously served in a church nursery for over 2 years and studied child development in college.  She has 3 children and currently serves on the HCC phone ministry team and ministers deliverance on the HCC zoom services for men & woman.  
Laurie Madden
Mrs. Madden worked as a graphic designer and in the production print industry for 17 years. She attended Glendale Community College and completed Graphic Design and Pre-Press certifications. She previously served at a small church praying for the sick and as an intercessor. Her husband is a General Manager for a Phoenix electric company. She has one son and grand daughter living in New Mexico and is the manager of the ADC bookstore.   
Jennifer Darnell
Ms. Darnell was born in East Texas and moved to the Valley in 1980. She is a graduate of Arizona State University and is the mother to two daughters.  She currently works as an Executive Assistant to the CEO at a software firm in Chandler.  She has a strong anointing for inner healing & deliverance.
Stephanie Garcia
Ms. Garcia has worked for 23 years in the orthodontic dental field.  She has significant experience ministering to women, working in street ministry & door to door evangelism.  She also has experience in children's ministry, "Hope Lives," and has a strong anointing for inner healing of soul wounds & deliverance.  She is the mother of 5. 

Kelley Beck
Mrs. Beck brings a unique background to the Arizona Deliverance Center. She worked 19 years in the photo processing industry and worked on the political campaigns of her mother when she ran for the U.S. Congress in Arizona. She has a Bachelor's degree from Clayton College of Natural Medicine in natural health.  Her music skills include playing the trumpet and piano and she has a great love for the outdoors. She is an expert in the ARP Wave rehabilitation system. She is married to a retired U.S. Airways pilot and has 2 children and 8 grand children.  She works at H.C.C. in the areas of video/audio, admin, deliverance, management, healing and heads up our weekly services and helps with our telephone prayer ministry.